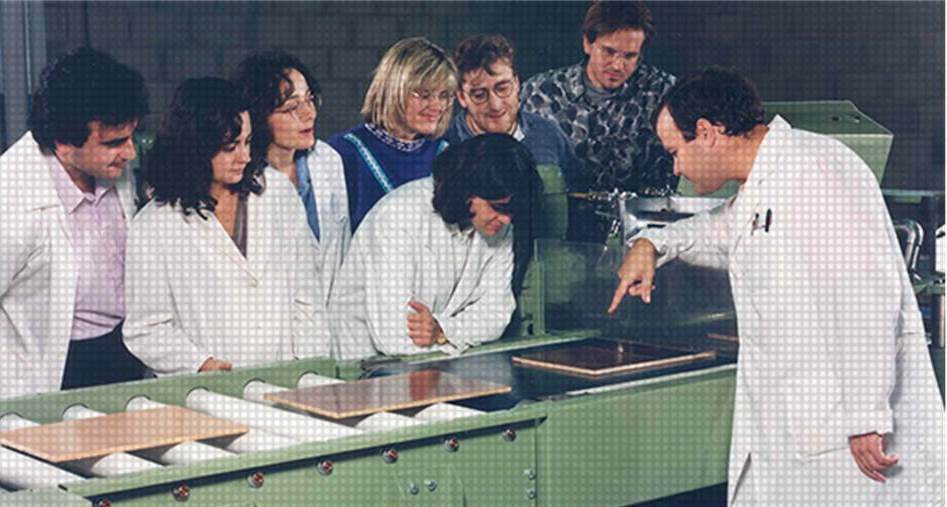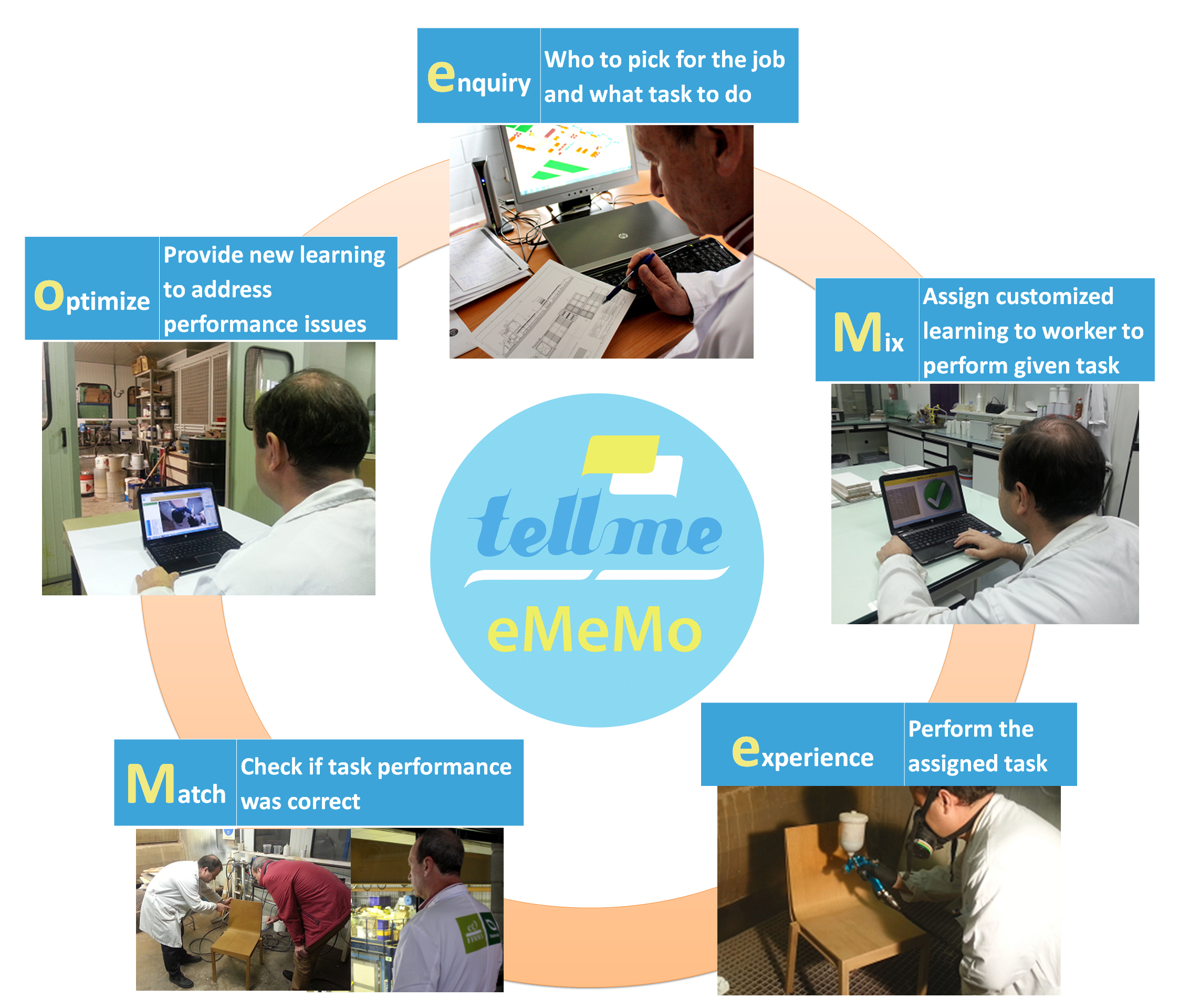 Acrónimo
TELL ME
Nº de expediente de la concesión
FP7 318329
Nombre oficial
TELL ME. TECHNOLOGY ENHANCED LEARNING LIVINGLAB FOR MANUFACTURING ENVIRONMENTS
Duración
Del 2012-11-01 al 2015-10-31
Descripción
The TELL-ME project (Technology Enhanced Learning Livinglab for Manufacturing Environments) aims to develop and trial in authentic contexts (SME-driven human-centric and service-oriented manufacturing
workplaces) an innovative cross-enterprise methodology and IT platforms for continuous education and training in heterogeneous business ecosystems, blending Precision Teaching (PT) lifelong learning and Living Lab (LL) participative co-creation aspects in ways that can address more business needs than traditional training.
This responds to several EU 2020 Strategy indicated in several Flagship Initiatives like "An Agenda for new skills and jobs", "An industrial policy for the globalisation era", "Innovation Union" and "Digital Agenda for Europe" and summarised in the two questions below:
- How can SMEs blue collar workers in less advanced industrial sectors keep the pace of innovation of technologically advanced ones?.
- How can TEL-based training be positioned and improved, in order to have more impact on industrial sectors' innovation and resilience?.
Five main challenges have been identified as fingerprints of the TELL-ME proposal:
- Human-centred manufacturing and the increasing need to consider human factors and workers wellbeing in the production processes;
- Service oriented Manufacturing and its increasing need to open, breed and govern globalised business ecosystems;
- Learning Ecosystems are the new frontier of collaborative value networks on a global and cross-sector market;
- Living Labs of SMEs and their need to constantly develop business-technical-social-market innovation via co-creation and inspirational environments;
- Learning at the Workplace and its need for fast, punctual and personalized life-long learning that takes account of fluency-driven approaches to training, and trends in using TEL and OER for self-regulated learning.
Objetivos
The project's minimum objective is to use TEL to improve the situation of those blue collar workers and knowledge workers who are "at risk" because they lack the right knowledge for the challenges facing them immediately or in the near future. In the case of workers in SMEs, this implies bringing to their workplaces, at an appropriate time, in an appropriate context-dependent user interaction form, learning content personalised for their needs and of proven worth synthesis from a huge set of cross-organizational experiences gained by the same worker or by some of his/her colleagues facing a similar working situation or problem).
Also larger objectives need to be met:
1. Study and develop a new learning methodology, able to support important forms of user-pull, and compatible with performance-focused upskilling/ re-skilling methods and with Living Lab (LL) principles, as a unifying fil rouge for the diverse and heterogeneous learning situations experienced by blue collar workers, knowledge workers and other SME staff in their working life.
2. Develop and deploy a cross-organisational and human-centered ecosystem IT infrastructure to interconnect Real World learning workplaces and common software used there, Digital World learning results, Virtual World learning simulations under a secure and privacy-preserving environment.
3. Implement and interoperate a federation of semantically enabled distributed multimedia repositories for learning with advanced search, summarization, customization facilities.
4. Design and test innovative model-generated, human-centric workplaces including mobile and hands-free wearable interaction devices for blue collar workers and taking into account the possible noisiness and harshness of the manufacturing environments.
5. Identify and measure economic and non-economic benefits of innovative learning solutions at the workplace for individuals, organizations and business ecosystems.
6. Deploy and experiment with the new learning solutions in industrial workplaces attended by SMEs blue collar workers.
7. Favor the conditions for creating a sustainable and durable impact of the TELL ME TEL solutions to European manufacturing industry and society, by means of properly focused dissemination, exploitation, training and standardization actions.
Socios
AIDIMME
VTT BUILDING TECHNOLOGY
IMAGES
AARBA
ALFAMICRO
AW
TXT - COORDINADOR
DITF
IVLAB
KTH
OU
PROFI
SOFT
PIKSEL
CCA

URL del proyecto
URL´s relacionadas
No se ha insertado ninguna web
Resultados obtenidos
Año 2015: TELL ME's framework and methodology will have these specific impacts: · Via its provision for horizon scanning and sense-making, SMEs gain timely notice of when to update/re-skill to meet new demands and market challenges. Via its provision for codified knowledge-sharing and bench-marking (eg, within Living Labs), each SME can identify the most appropriate ways for them to exploit new knowledge and skills across their organization to increase its flexibility and agility and raise its competitiveness. Via its provision for fluency in new skills via Precision Teaching, SMEs can reach higher standards of skilled performance, faster, more certainly, more effectively and more conveniently (anywhere, anytime learning using mobile devices). · Creativity within SMEs is likely to be enhanced, through the framework's provision for Social Learning and by implication the links to other sources of external views and information, accessed through formal training, peer-to-peer collaboration and data-mining of community discussions. · People taking formal courses, and other staff in SMEs who have access to TELL ME, can search for, or encounter, a wide range of personalized solutions generated within TELL ME and used in their SME or other SMEs. Through seeing those solutions in use, they become prospects for creating or commissioning learning solutions that are localized or specialized for their needs in their SME. By thoughtful use of Precision methods, coupled with smart tools for adaptation and personalization, they and their colleagues can save time and money as they reach their desired level of fluency in applying their newly-acquired knowledge. Moving them away from "one size fits all" to tailored solutions will give them confidence to apply such tools and methods to other areas of their work and their lifelong learning.
Entregables:
Año 2015:
Entregables:
Noticias publicadas
https://clickug.com/noticias/2015-09-11/news-183998-source-160-el-centro-nacional-de-madera-y-mueble-y-aidima-testean-con-exito-el-innovador-sistema-formativo-tellme
http://publiditec.com/blog/el-centro-nacional-de-madera-mueble-y-corcho-y-el-instituto-aidima-testean-con-exito-el-innovador-sistema-formativo-tellme/
http://www.imcb.info/noticia/10153/aidima-testea-con-exito-el-innovador-sistema-formativo-tellme-
http:// http://www.redit.es/es/item/412-el-centro-nacional-de-madera-mueble-y-corcho-y-aidima-testean-con-exito-el-sistema-formativo-tellme
http://www.interempresas.net/Madera/Articulos/144319-Aidima-testea-con-exito-el-innovador-sistema-formativo-Tellme.html
http://www.tecnimadera.com/?p=373408
http://noticias.infurma.es/empresa-2/royo-group-implanta-un-sistema-piloto-de-formacion-interactiva-en-sus-lineas-de-montaje/30475
http://www.aidima.es/aidimainforma/articulos_pdf/74-id_TELLME%20v3_AIDIMA%20informa%2074.pdf
https://clickug.com/news/2015-07-23/news-182181-source-160-la-multinacional-royo-group-implanta-un-sistema-piloto-de-formacion-interactiva-en-sus-lineas-de-montaje?redirected=true
http://www.madera-sostenible.com/mueble/royo-group-implanta-un-sistema-piloto-de-formacion-interactiva-en-sus-lineas-de-montaje/
http://publiditec.com/blog/la-multinacional-royo-group-implanta-un-sistema-piloto-de-formacion-interactiva-en-sus-lineas-de-montaje/
http://www.noticiashabitat.com/2015/la-multinacional-royo-group-implanta-un-sistema-piloto-de-formacion-interactiva-en-sus-lineas-de-montaje/
http://news.infurma.es/company/royo-group-introduces-a-pilot-learning-system-for-interactive-training-at-their-assembly-lines/12252
http://www.cocinaintegral.net/noticia/el-sistema-tellme-sus-primeros-pasos/81296
http://www.noticiashabitat.com/2015/el-centro-nacional-de-madera-mueble-y-corcho-y-el-instituto-aidima-testean-con-exito-el-innovador-sistema-formativo-tellme/
http://www.imcb.info/noticia/10030/royo-group-implanta-un-sistema-piloto-de-formacion-interactiva-en-sus-lineas-de-montaje?utm_source=news_2015-07-22&utm_medium=2015-07-22&utm_campaign=mailing#
http://www.tecnimadera.com/?p=373063
Subvención
€
Financiado por