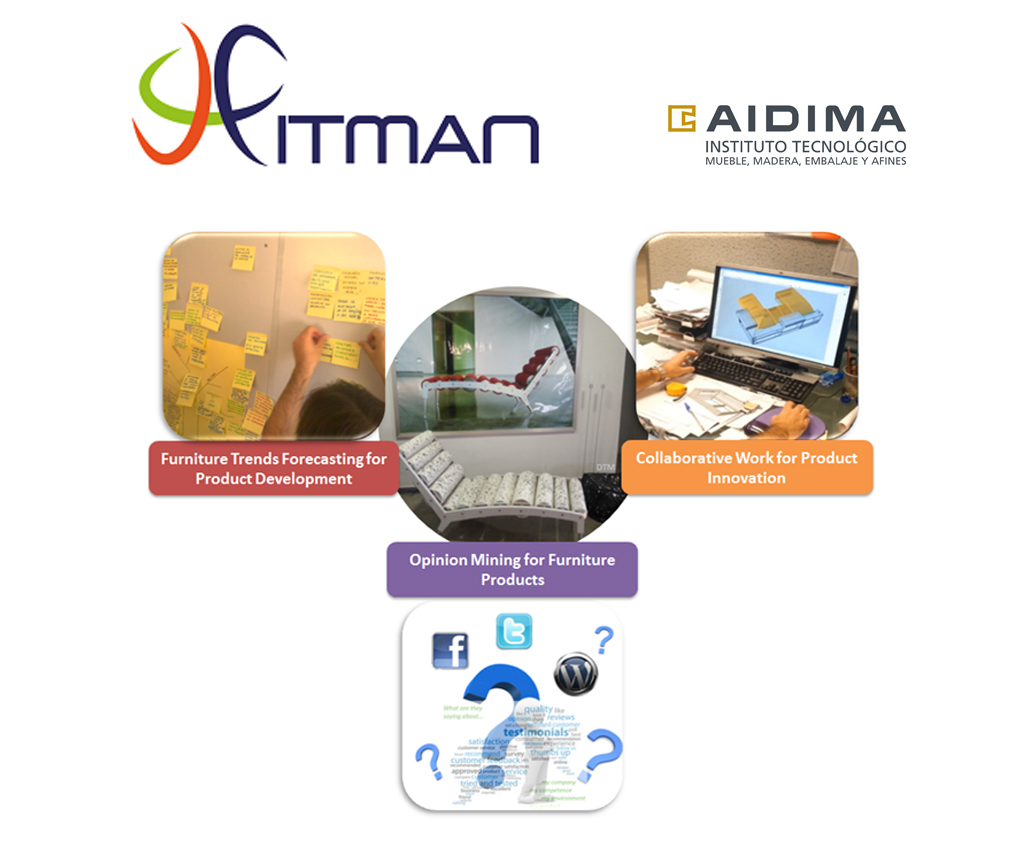 Acrónimo
FITMAN
Nº de expediente de la concesión
604674
Nombre oficial
FUTURE INTERNET TECHNOLOGIES FOR MANUFACTURING
Duración
Del 2013-04-01 al 2015-09-30
Descripción
The mission of the FITMAN project is, on one side, to provide the FI PPP Core Platform with a set of industry-led use case trials in the manufacturing domain, in order to test and assess the suitability, openness and flexibility of FI-WARE Generic Enablers; on the other side, to contribute to the social-technological-economical-environmental-political (STEEP) objectives included in the "ICT for Manufacturing" and "Future Internet Enterprise Systems" EU research roadmaps, by integrating FI generic and specific enablers with key business processes and enterprise applications currently running in Smart, Digital and Virtual Factories of the Future.
The FITMAN mission aims to create a virtuous innovation vortex between the FI PPP and the manufacturing sector, represented here by the FInES movement and the FoF PPP: on the one hand the EU IT industry, SMEs and web entrepreneurs, needs to explore new market opportunities and the manufacturing sector is one fundamental driving force for EU economy22. On the other hand the role of ICT in manufacturing is becoming more and more important and most of the recent innovations in Manufacturing (e.g. Cloud manufacturing, Human centric manufacturing, Intelligent manufacturing) would have been simply impossible without new ICT and FI Technologies. This is true for Big OEMs (Original Equipment Manufacturers) adopting on the field new innovations and measuring their impact on the large scale of their value network, but it is particularly true for manufacturing SMEs and their business ecosystems who could play the role of pioneers of innovation thanks to the open and cheap availability of ICT in the FI.

Objetivos
Obj1. To develop a FITMAN baseline system which will allow filling the Phase I gap with respect to the FI PPP Programme, by integrating and exploiting IT and business assets developed in recent and on-going FInES and FoF projects. A refined FITMAN reference architecture is produced (WP1)
Obj2. To develop a FITMAN verification and validation system which will give common structure and clear methodological / practical guidelines for the assessment and evaluation of FI-WARE core platform through FITMAN experimentation sites and test applications (WP2)
Obj3. To develop 11 FITMAN experimentation sites which will include not just the technical instantiations of the FI-WARE-derived FITMAN system, according to the FITMAN Reference Architecture, but also a community of people, users-technicians-researchers-managers, well trained about FI PPP Programme and ready to conduct fruitful trials (WP3)
Obj4. To run 11 FITMAN test applications in realistic IT and business contexts characterised by an active participation of the final users, with the aim to trial, assess and validate the FI-WARE core platform and in particular its openness and versatility (WP4-5-6)
Obj5. To collect the FITMAN trial experiences in coherent, comprehensive and generalized sets of lessons learned and guidelines with the final aim to get to a set of recommendations for FI PPP Programme Board and Coordination Team as well as a set of best practices for manufacturing industry willing to adopt and take-up FI technologies (WP7)
Obj6. To plan the FITMAN Phase III expansion, driven by Business Innovation models – e.g. service innovation, social innovation - and by the successful experience of the Interop VLAB distributed structure, by involving stakeholders outside the consortium, but very important in the local business tissue of the experimentation sites (WP8)
Obj7. To assure an effective FITMAN impact on research and society, by carefully planning and implementing dissemination, exploitation, standardisation and collective/territory awareness measures in coordination with the whole FI PPP Programme for the society at large and more autonomously to the FInES and FoF constituencies (WP9).
Obj8. To coordinate the FITMAN consortium and to integrate FITMAN project inside the FI PP Programme, by assuring a detailed and precise respect of the FITMAN workplan and guaranteeing the timely and high-quality delivery of FITMAN outcomes to the Programme and to the other FI PPP Projects (WP10)
Socios
TXT - COORDINADOR
IVLAB
PTIN
ENG
POLIMI
VTT
IT INNOV
ATOS
NTUA
INNOVALIA
PIACENZA
SOFT
A.P.R.
LYON 2
CONSULGAL
UNINOVA
TANET
COVENTRY
COMPLUS
FHG-IPK
SEGEM
UB1
AIDIMME
IBV
VW
TRW
WHIRL
AW
GEOLOC SYSTEMS

URL del proyecto
URL´s relacionadas
https://www.linkedin.com/grp/home?gid=4986259
https://www.facebook.com/FitmanFi
http://www.slideshare.net/FitmanFI
https://www.youtube.com/channel/UCT_zyTfmi2GAbGRQ5SduHyw
Resultados obtenidos
Año 2015: AIDIMA ha satisfecho los escenarios propuestos al inicio del proyecto satisfactoriamente. Se han implementado las aplicaciones de análisis y búsqueda de tendencias automáticas y generación de señales débiles. Así mismo se han implementado las plataformas de análisis de sentimiento y minería de opiniones que busca en Facebook y twitter para dar respuesta a qué quiere el consumidor final del sector del mueble. Por último se ha desarrollado la herramienta de diseño colaborativo en donde todos los actores de un proyecto de diseño y creación de un nuevo producto se pueden dar cita desde diferentes ubicaciones geográficas para compartir mediante interfaces gráficas todos los documentos necesarios en dicho proceso de creación, tan solo disponiendo de conexión web.
Entregables:
Noticias publicadas
http://www.aidima.es/aidimainforma/articulos_pdf/74-id_FITMAN_AIDIMA%20informa%2074.pdf
http://www.aidima.es/aidimainforma/articulos_pdf/id_FITMAN.pdf
http://www.aidima.eu/future-internet-technologies-manufacturing-fitman/
http://www.noticiashabitat.com/2013/future-internet-technologies-manufacturing-fitman
http://www.noticiashabitat.com/2013/fitman-tecnologias-internet-futuro-fabricacion/
http://www.fitman-fi.eu/publications/
Subvención
€
Financiado por