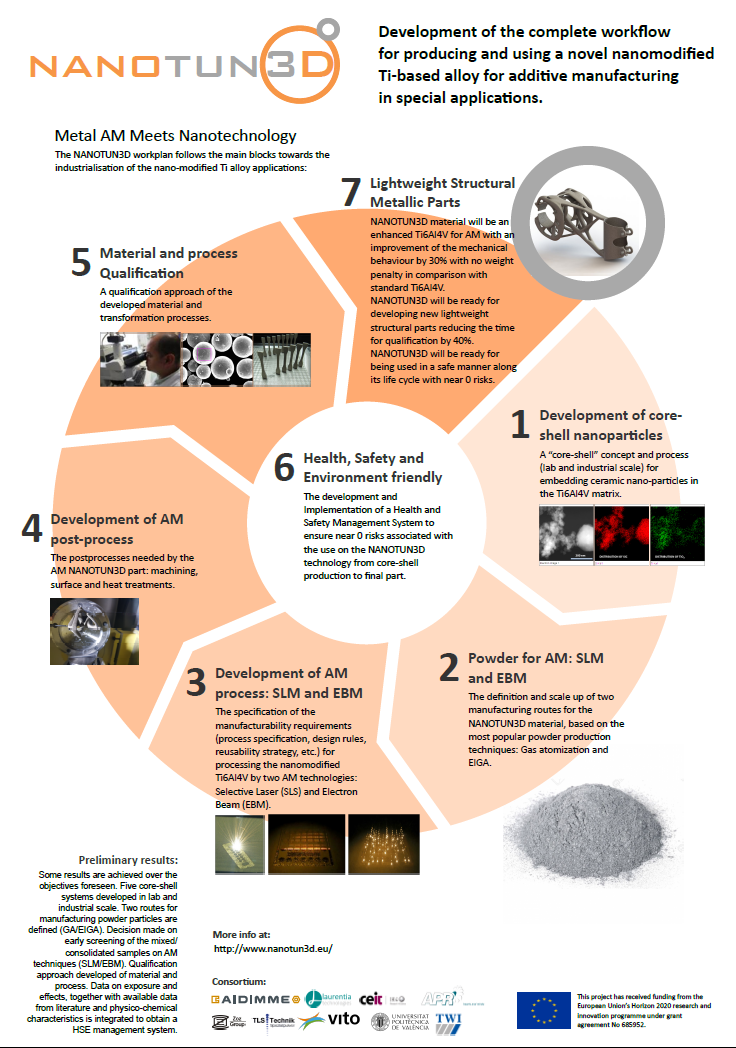 Acrónimo
NANOTUN3D
Nº de expediente de la concesión
GA-685952
Nombre oficial
NANOTUN3D - DEVELOPMENT OF THE COMPLETE WORKFLOW FOR PRODUCING AND USING A NOVEL NANOMODIFIED TI-BASED ALLOY FOR ADDITIVE MANUFACTURING IN SPECIAL APPLICATIONS
Duración
Del 2015-10-01 al 2019-09-30
Descripción
NANONTUN3D will take advantage of the possibilities of Additive Manufacturing (AM) together with the development of a specially tailored Ti- based nano-aditived material to achieve dramatic improvements in structural parts of aero, space, mobility, and equipment sectors, reaching expected savings between 40% and 50% of material in critical applications. inherent benefits of AM will be kept (decrease in throughput times, tool-less production, high buy-to–fly-run ratios, etc.).
By adding nano-particles (np) to metal matrixes, the whole life cycle of the NANOTUN3D material has been designed with AM processability in mind: safety and handling issues, processing in well-known AM technologies, postprocessing and eventual certification issues are dealt with, and innovative core-shell treatment of the nano-particles that suits the Ti matrix and produces Ti64-like powder ready to be AM processed. A whole Health, Safety and Environmental (HSE) management system will also be developed, as well as all the protocols to start qualification/certification of material and process.
Objetivos
NANOTUN3D will:
• Develop a raw material (metal powder) to be processed by additive manufacturing techniques with powder bed fusion –selective laser melting (SLM) and electron beam melting (EBM)- based on a nanomodified Ti6Al4V alloy with enhanced structural performance versus standard alloy (tensile properties 30-40% better; hardness, fatigue and wear properties enhanced 20-30%, and high temperature properties enhanced 15-25%, with no weight penalty).
• Definition of a "core-shell" concept and process for embedding ceramic NPs in the Ti6Al4V matrix, improving the matrix/NP interaction in metal powder while reducing safety risks.
• Development of the synthesis and manufacturing methods for producing the "core-shells" both in lab and industrial pilot scale.
• Definition of two manufacturing routes for the NANOTUN3D material, based on the most popular powder manufacturing techniques: Gas atomization (GA) and EIGA. Both routes will be scaled up to produce powder batches on the hundreds Kg. These routes will, respectively
o Re-design and simulate the gas injection system (DIE) for simultaneous powder and core-shells injection.
o Develop mix/consolidation process towards a uniformly dispersed bar/ingot on the EIGA process
• Development of the process parameters settings for processing the new nanomodified Ti6Al4V by SLM and EBM, as well as the hardware modifications needed. Targets in the optimisation of process parameters will be the ones of the well-knownTi6Al4V.
• Define a reusability strategy of the NANOTUN3D powder for both SLM and EBM.
• Assessment of postprocesses needed by the AM manufactured NANOTUN3D part: surface and heat treatments applied to improve roughness, fatigue behaviour and to reduce residual stresses and distortions of the manufactured parts, as well as machining conditions.
• Development of a qualification approach of material and transformation processes developed along the full value stream for the SLM and EBM processed NANOTUN3D material, which can be extrapolated to new prospective materials following the same production concept.
• Implementation of a Health, Safety and Environmental (HSE) management system that will deal with the safety risks associated with the use of nanoparticles along the value stream, and will define a reliable workflow of the manufacturing, handling and processing of the Ti-based nano-additived material, from core-shell production to final part.
• Validation of a supply chain for the NANOTUN3D workflow that can be extrapolated to other nano-composites increasing the range of products available in metal AM technologies.
• Direct application of the new nanomofied Ti6Al4V processed by SLM and EBM, the production workflow and the HSE management system in two "virtual demonstrators" from the aero sector.

Socios
AIDIMME - COORDINADOR
UPV
CEIT
LAURENTIA
TLS TECHNIK GMBH & CO. SPEZIALPULVER KG
ZOZ
APR
VITO
TWI LIMITED

URL del proyecto
URL´s relacionadas
No se ha insertado ninguna web
Resultados obtenidos
No se ha insertado ningun resultado
Noticias publicadas
No se ha insertado ninguna noticia.
Subvención
489.031,25 €
Financiado por